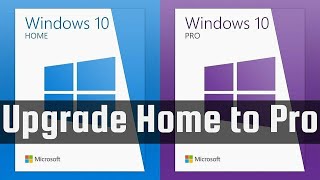 How To Upgrade Windows 10 Home To Windows 10 Pro For Free (Without Reinstalling Windows)
Link To The Video:
https://www.youtube.com/watch?v=lmZTmXp-Qmw
Please Watch The Video
Description:
This is how you can upgrade your current edition of Windows 10 Home to Windows 10 Pro for free without needing to reinstall your current operating system.
Get all the features of Windows 10 Home operating system plus Remote Desktop, Windows Information Protection*, BitLocker** and a suite of tools designed for business use.
You need to go to your settings>system>about>change product key or upgrade edition of windows (See video above).
Change the product key by pressing "Change product key" for a window to pop up there input the key for Windows 10 Pro to begin installing you will need internet for this, note if Windows 10 Pro product key is not working you have to use Windows 10 Educational key first after upgrading your Windows 10 Home to Windows 10 Educational then open the window to input a product key again this time however input Windows 10 Pro key instead then it should successfully upgrade your edition to Windows 10 Pro. Enjoy! product keys are listed below
Windows 10 Educational - 8DVY4-NV2MW-3CGTG-XCBDB-2PQFM
Windows 10 Pro - W269N-WFGWX-YVC9B-4J6C9-T83GX